THE NEW FRONTIER IN CARDIO HEALTH: UNIQUE FORMULA THAT SUPPORTS HEALTHY METABOLIC FACTORS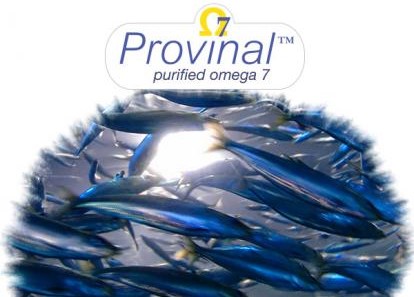 Provinal® is an ultra-purified Omega 7 Fatty Acid blend from Peruvian anchovy fish oil. Omega 7 is a naturally-occurring monounsaturated fatty acid that has been shown to have broader pharmacological benefits than other known omega fatty acids, particularly in dealing with insulin resistance, obesity and cardiovascular complications.
Omega 7: A Breakthrough in Healthy Fats Discovery with TWO US Patents
Omega 7 (also known as Palmitoleic acid) was first discovered in 2008 at the Harvard School of Public Health (HSPH). Omega 7 prevents cardiovascular disease when fed to lab animals, according to a study published in Science Translational Medicine. Since then, scientists are getting increasingly excited about this newly discovered effects of omega-7 fatty acids.
In 2011, an US Patent, which identified palmitoleic acid as a biomarker for metabolic status, was issued to Harvard College. Administering omega 7 positively impacts lipid metabolism. In the following year, another US Patent was issued to the manufacturer, Tersus Pharmaceutical. It identified the use of palmitoleic acid in nutraceutical formulations and dietary supplement. It is safe and effective in preventing Cardio-Vascular Diseases, cholesterol accumulation & lipid deposits in the blood vessels.
Omega 7 palmitoleic acid powerfully complements omega-3 fatty acids with cellular-signaling properties that promote a healthy heart, support healthy inflammatory response and optimize normal metabolism of glucose and insulin.
Provinal® Ultra-Purified Omega 7 is rated 5-star in IFOS™ (International Fish Oil Standard) Program, the only third-party testing and certification program for fish oils. IFOS™ sets the world's highest standards for purity, potency and freshness.
The REAL story behind Purified Omega 7
Dr. Roizen: "The Benefits of Purified Omega 7"
Atherosclerosis and Purified Omega 7 by Dr. Michael F.Roizen
Provinal® Ultra-Purified Omega 7 Key Parameters:
Concentrated Palmitoleic Acid in Ethyl Ester Form
From sustainable Peruvian anchoy fish oil
NLT 50.0% Palmitoleic Acid (C16:1n7)
NMT 1.0% Palmitic Acid
Available in 190 kg and 24 kg Drums
Produced in State of the Art GMP Approved Facility (KFDA Approved)
Key Benefits:
Supports healthy metabolic factors
Maintains superior cardiovascular health
5X more effective in reducing triglyceride compared to EPA
Supports healthy inflammatory response (lowers CRP level)
Optimizes normal metabolism of glucose and insulin
Reduces risk of fatty liver
1. Effect of Palmitoleic Acid on HDL levels and Cholesterol Deposition in Apo-E Mice
Cleveland Clinic Foundation, Cleveland, Ohio, USA, Jan 2009
In 2009, Cleveland Clinic Foundation performed a randomized, blinded, controlled study on mice genetically engineered to develop arterial plaque and cholesterol deposits. Two groups were studied – a control group that received no palmitoleic acid and those who received palmitoleic acid as part of their diet for 12 weeks. HDL cholesterol levels were tracked during the study and the animals were sacrificed at 12 weeks. Their aortas and aortic roots were examined for the development of plaque and cholesterol deposition development.
The treated animals showed dramatic reductions in aortic cholesterol deposition versus control. Aortic root cross-sections showed a virtual absence of atheroma formation after treatment with palmitoleic acid. Additionally, treated animals showed an 85% increase in HDL levels.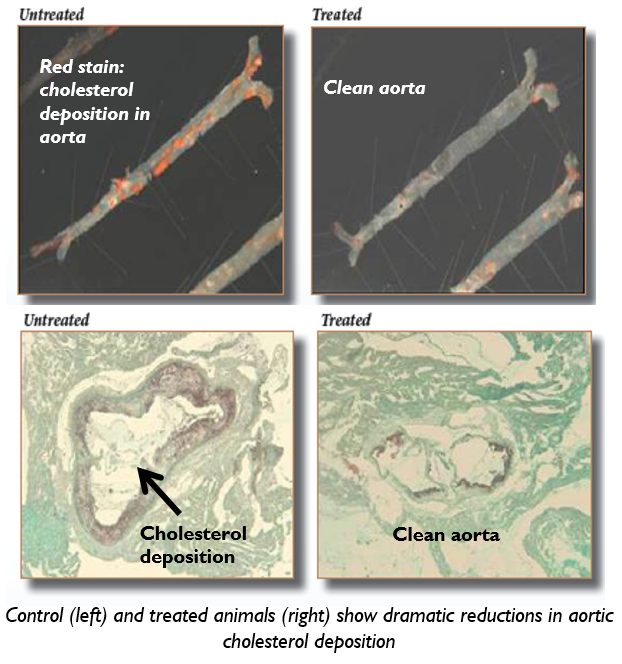 2. Provinal® Reduces Inflammatory Markers (CRP) & Improves Lipid Profile
Bernstein, Adam M., Michael F. Roizen, and Luis Martinez. "Purified palmitoleic acid for the reduction of high-sensitivity C-reactive protein and serum lipids: a double-blinded, randomized, placebo controlled study." Journal of clinical lipidology 8.6 (2014): 612-617.
60 human adults with dyslipidemia and evidence of mild systemic inflammation (high-sensitivity C-reactive protein [hs-CRP] between 2 and 5 mg/L) were randomly allocated to receive either 420 mg Provinal® Omega 7 (210 mg Palmitoleic acid) or a placebo (1000 mg of medium chain triglycerides) once per day for 30 days. Participants were asked to maintain their current diet. Serum lipids and hs-CRP were drawn at baseline and study completion.
At 30 days, subjects who consumed Provinal® Omega 7 showed significant reductions in CRP (51%), triglyceride (16%), and LDL (7%) as well as significant increase in HDL (3%).

3. Enhanced Insulin Sensitivity and Reduced Liver Inflammation
Yang, Zhi-Hong, Hiroko Miyahara, and Akimasa Hatanaka. "Chronic administration of palmitoleic acid reduces insulin resistance and hepatic lipid accumulation in KK-Ay Mice with genetic type 2 diabetes." Lipids in health and disease 10.1 (2011): 120.
Genetically modified mice with obese type-2 diabetes and low insulin sensitivity (KK-Ay model) were orally administered with 300 mg/kg of palmitoleic acid, or 300 mg/kg of palmitic acid daily for 4 weeks.
Palmitoleic acid significantly reduced body weight increase, ameliorated the development of hyperglycemia and hypertriglyceridemia, and improved insulin sensitivity. In addition, hepatic characteristics were significantly affected, as weight of the liver and hepatic triglyceride levels were lower in the palmitoleic acid group when compared to the control.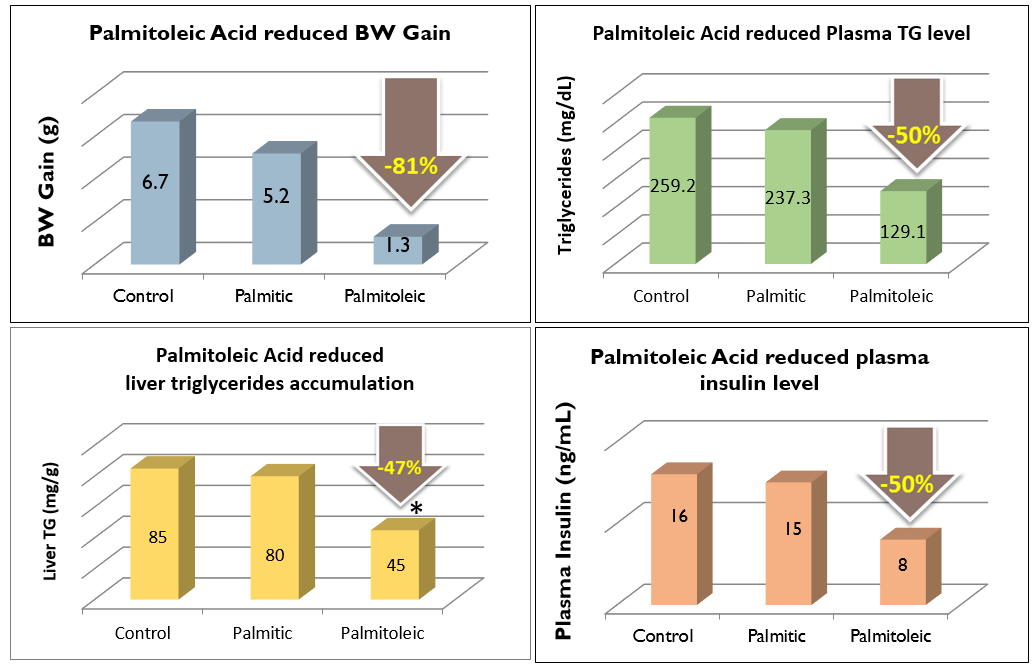 Oil red O staining clearly indicated reduced hepatic lipid accumulation in response to palmitoleic acid. Furthermore, palmitoleic acid suppressed proinflammatory gene in the mice liver.
4. Research Comparative between Provinal® Omega 7 and eicosapentaenoic acid (EPA or omega 3) in Serum Triglyceride and Body Weight (BW) Reduction
1Yang, Zhi-Hong, Hiroko Miyahara, and Akimasa Hatanaka. "Chronic administration of palmitoleic acid reduces insulin resistance and hepatic lipid accumulation in KK-Ay Mice with genetic type 2 diabetes." Lipids in health and disease 10.1 (2011): 120.
2Zhang, Minfang, et al. "Effects of eicosapentaenoic acid on the early stage of type 2 diabetic nephropathy in KKAy/Ta mice: involvement of anti-inflammation and antioxidative stress." Metabolism-Clinical and Experimental 55.12 (2006): 1590-1598.
Research on palmitoleic acid (PA) sponsored by Nippon Suisan Kaisha at the Central Research Laboratory in Japan1 as compared to identical research model published through a joint collaboration of research scientists at the Division of Nephrology, Department of Internal Medicine, Juntendo University School of Medicine, Tokyo, Japan and the Department of Nephrology, Renji Hospital, School of Medicine, Shanghai Jiaotong University, Shanghai, China2.
Methods:
EPA – The treatment group was injected with EPA ethyl ester (Epadel from Mochida) at 1 g/kg per day intraperitoneally from 12 to 20 weeks of age and the control group was injected with saline. Renal morphologic examinations were performed after 8 weeks of treatment.
PA – KK-Ay mice were orally administered 300 mg/kg of palmitoleic acid or 300 mg/kg of palmitic acid (C16:0) on a daily basis for 4 weeks and compared vs. control.
Results:
At 5-fold less dosage and in half the administration time, PA is of greater potency than EPA in reducing serum triglyceride in identical mouse models. PA reduced body weight gain by 81% vs control while EPA showed no significant (NS) impact on BW gain against its control.