Elastin is a key extracellular matrix (ECM) protein that provides resilience and elasticity to tissues and organs. Elastin is roughly 1000 times more flexible than collagens; thus, the main function of elastin is the elasticity of tissues. It is the dominant protein in extensible tissues and is primarily present in the aorta (~50%), lung (~20%) and skin (2-5%).
ELASTIN IN SKIN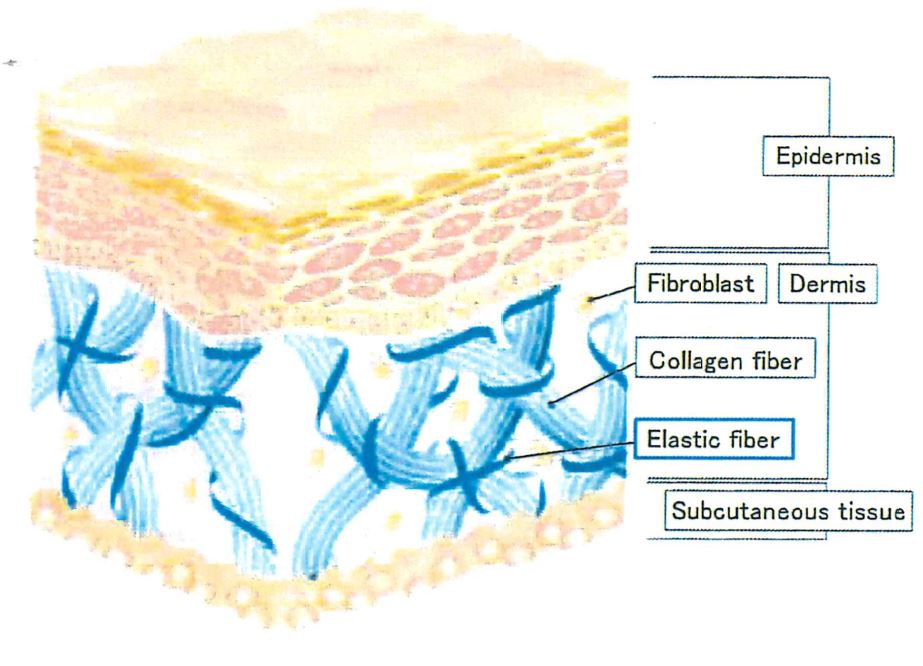 However, elastin content and its synthesis in our body decrease with ageing. Elastin in our skin could be damaged by prolong exposure to UV rays and excessive glucose consumption (glycation). The loss of skin elastin results in skin sagging and wrinkle formation.
ELASTIN IN AORTA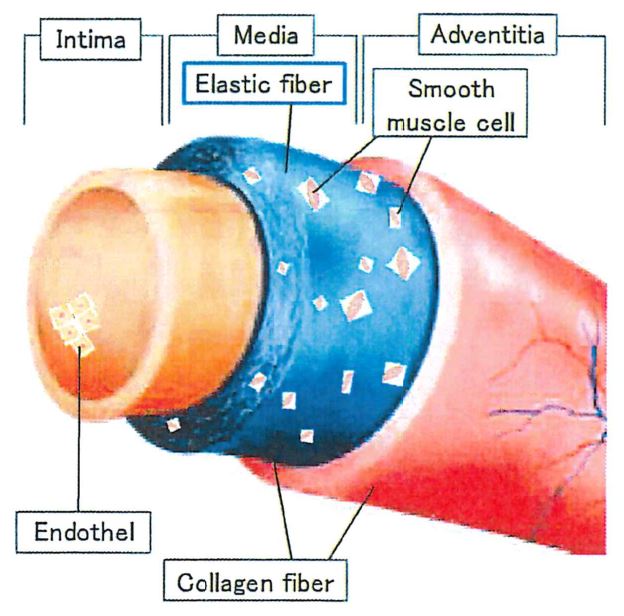 The largest artery in our body, the aorta, requires powerful elastic resilience to transfer the blood pumped from the heart to the rest of the body. It is no surprise that elastin contributes to 50% the dry weight of the aorta. The deteriorating content of elastin in aorta due to ageing is life threatening, as this will cause this major blood vessel to become stiff (angiosclerosis) and break easily.
ELASTIN F FROM BONITO FISH
Traditional source of elastin peptide derived from bovine ligament raises the concern of bovine spongiform encephalopathy (BSE) disease. This issue has spurred scientists to look for safe, alternate source of elastin peptide for cosmetic and nutraceutical purposes.
Elastin F is a Japanese premium quality, heat & acid stable as well as highly soluble elastin peptide from marine bonito fish. The integrity of cross-linked amino acid (Desmosine and Isodesmosine) in Elastin F is well preserved even under high heat and low pH conditions. Comprehensive safety studies of Elastin F have been conducted by the Japanese manufacturer. With the aid of enzyme biotransformation technology, 80% of Elastin F's peptides are of low molecular weight (less than 1000) which is readily absorbed in the human body.
The main benefits of Elastin F have been proven in clinical studies, which include:
Improving skin elasticity, reducing wrinkles and refining skin texture
Improving resilience and flexibility of blood vessels
Activating human skin fibroblast for synthesis of elastin and collagen
Alleviating knee pain
Reducing platelets aggregation
1. ELASTIN F ON SKIN CONDITIONS & WRINKLE REDUCTION
Journal of New Remedies & Clinics, 2007, 56(11):109-115
Journal of the Science of Food & Agriculture, 2015, 96(5):1672-7
In a 2007 placebo-controlled double-blind study, 20 Japanese women in her 30s were selected and were given 100mg Elastin F every day for eight weeks. The results showed significant improvement in the skin texture as compared to before treatment. There was also significant reduction in the wrinkling number and percentage volume.

In a 2012 placebo-controlled double-blinded study, 20 Japanese women in her 30s were selected to investigate the effects of elastin peptide on skin. They were given 75mg/day Elastin F for four weeks.
Results showed increase in skin elasticity as well as decrease in wrinkling.

In a 2015 double-blind, placebo-controlled study, 20 healthy Japanese women in her 30s were given 75mg/day of Elastin F for four weeks. Results showed significant increase in the skin elasticity.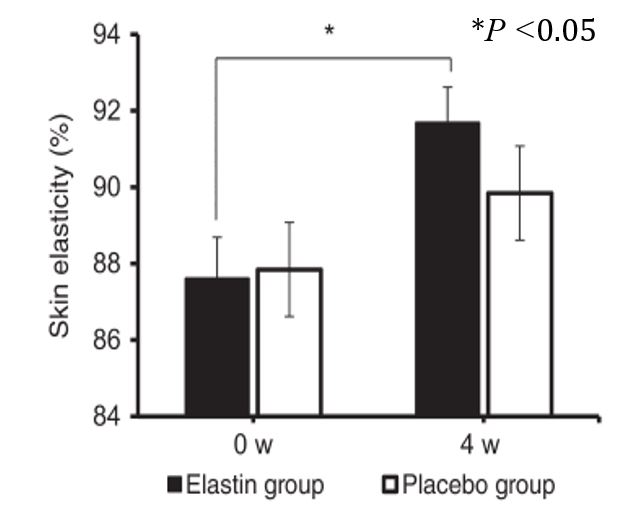 Also, subjective evaluation of skin conditions using a five-point scale were assessed. Comparing the total scores, elastin group showed significant improvements in the drying of the eye and mouth areas, smoothing makeup and long-lasting makeup.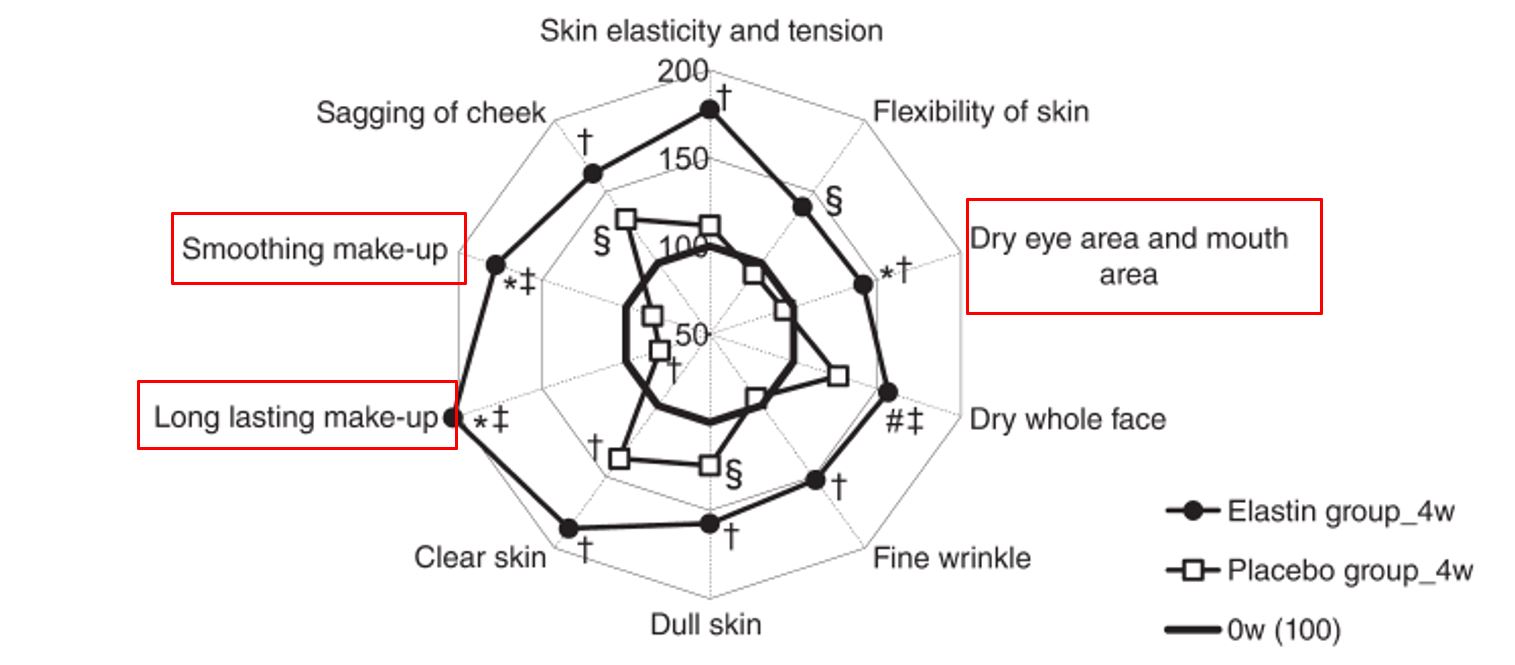 2. ELASTIN F ON SKIN FIBROBLAST PROLIFERATION, COLLAGEN & ELASTIN SYNTHESIS
A study was presented in 2007 Japan Society of Fisheries Science Conference of the effect of Elastin F in activating human skin fibroblast, a type of cell that produces collagen and elastin in the human skin. Elastin F of varying concentrations were added to human skin fibroblast culture solution. The results showed that fibroblast proliferation, collagen and elastin synthesis significantly improved for all Elastin F's concentrations.

3. ELASTIN F ON HEART VESSEL RESILIENCE
Shiratsuchi, Eri, et al., Marine Proteins and Peptides: Biological Activities and Applications (2013): 467 – 486
In a 2013 study, 25 healthy subjects were selected and were given 75mg Elastin F every day for 16 weeks and acceleration pulse wave measurement was taken to analyze the stiffness of blood vessel. The results showed significant improvement to the resilience of the heart vessel.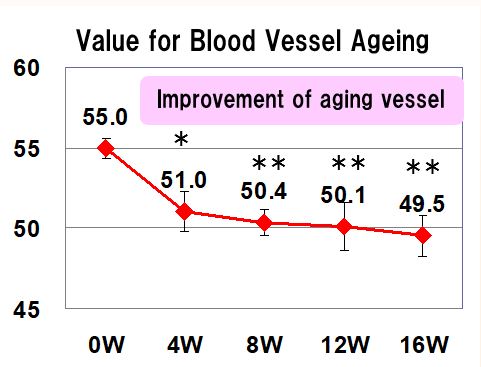 4. ELASTIN F ON ALLEVIATING KNEE PAIN
白土絵理. "機能性研究レポート カツオエラスチンによる膝痛軽減作用: 靭帯改善の観点から (Effects of bonito elastin on the knee pain and ligament)" Food style 21 18.5 (2014): 31-34.
In a 2012 double blind parallel study, 21 subjects were equally divided into three groups; Elastin F group, Elastin F + glucosamine group and a placebo group. Those who were in Elastin F and Elastin F + glucosamine group were given 75mg/day Elastin F for 12 weeks.
The results showed that there were improvements to the degree of knee pain over time in the Elastin F group and Elastin F + glucosamine group, whereas there was no great change in the degree of knee pain or the condition of the knee in the placebo group. This would suggest a synergistic effect when administrating Elastin F together with glucosamine to alleviate knee pain.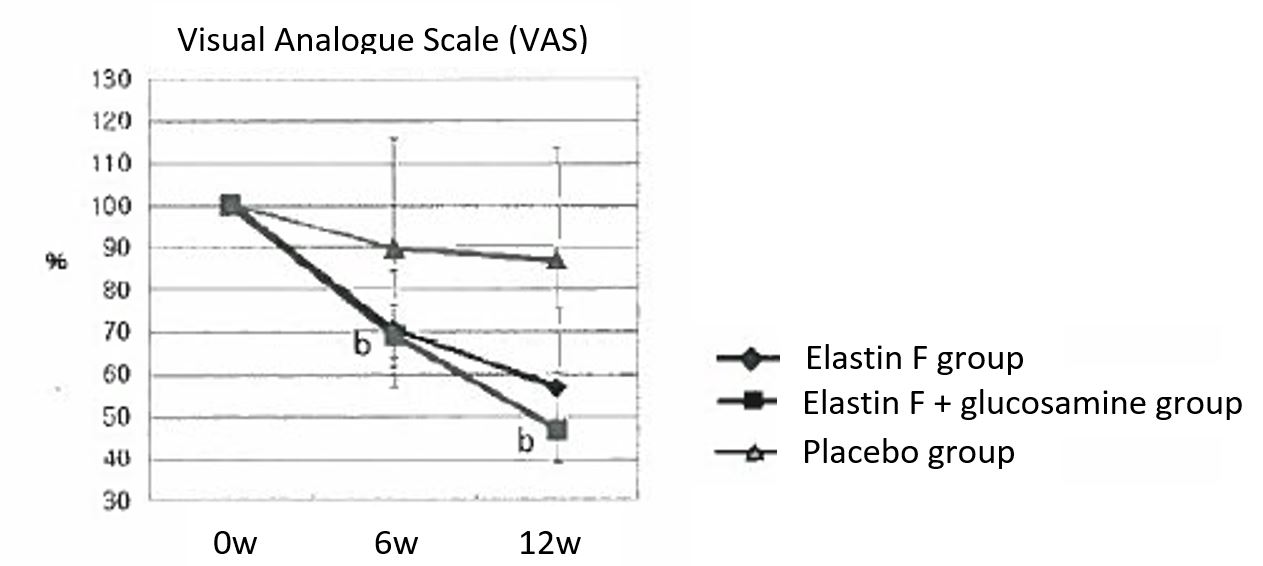 5. EFFECT OF ELASTIN PEPTIDE ON PLATELET AGGREGATION
Shiratsuchi, E., Nakaba, M. & Okamoto, K. (2010). Inhibitory Effect of Pisces-derived Elastin Peptide on Platelet Aggregation. Peptide Science 2009, 467-470.
An in-vitro study was conducted where platelet-rich plasma (PRP) was incubated with elastin from various sources: elastin peptide from bovine, elastin peptide from bonito (Elastin F) and elastin polypeptide from bonito.
The results showed that elastin peptide from bonito (Elastin F) has the highest inhibition of platelet aggregation. Low platelet aggregations contribute to lower blood clot formation, reducing risk of cardiovascular diseases (CVDs) like stroke.