Japan Patented 100% Highly Purified Glucosamine Hydrochloride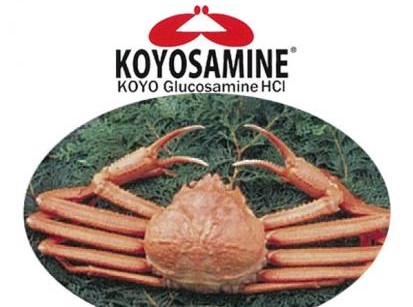 Glucosamine is a natural chemical compound in your body that helps keep up the health of your cartilage -- the rubbery tissue that cushions bones at your joints. However, glucosamine synthesis in the body drops as we age, leading to the gradual joint and cartilage degeneration.
Koyosamine® HCL is a patented, highly purified glucosamine powder. It is extracted with proprietary refinery process from fresh shells of Crustacea such as crabs and shrimps.
Koyosamine® HCL is manufactured in Japan with comprehensive quality program compliance to Food cGMP, ISO 9001 and FSSC 22000. We also ensure traceability from raw material to finished products.
More Than Just Relieving Joint Pain
The working mechanism of Koyosamine® HCL:

Koyosamine® HCL has been proven to work effectively in the following areas without posing harmful side effects to the human body:
Provides strength to cartilage
Supports cartilage regeneration
Relieves joint inflammation and pain
Improves skin texture
Promotes good blood circulation
1. Joint Care: Cartilage Regeneration
Tamai, Yasunori, et al. "Enhanced healing of cartilaginous injuries by glucosamine hydrochloride." Carbohydrate Polymers 48.4 (2002): 369-378.
The restorative effect of orally administered Koyosamine® HCL (1g/day) on rabbit's cartilage was investigated. Rabbits with joint cartilage damage showed complete recovery after 3-week treatment with Koyosamine® HCL.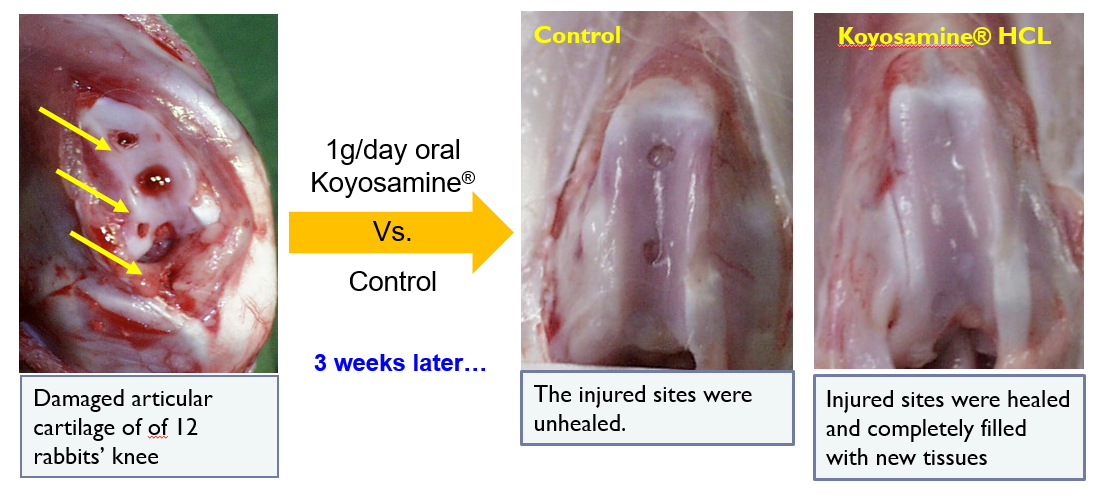 2. Joint Care: Sport Nutrition
Yoshimura, Masafumi, et al. "Evaluation of the effect of glucosamine administration on biomarkers for cartilage and bone metabolism in soccer players." International journal of molecular medicine 24.4 (2009): 487-494.
A team of Japanese scientists investigated the effect of Koyosamine® HCL on articular cartilage in soccer players who exposed their joints to excessive motion and loading. The team compared the levels of biomarkers for type II collagen degradation (CTX-II) and type II collagen synthesis (CPII) between soccer players and non-athlete controls, and in soccer players before and after glucosamine-administration.
Koyosamine® HCL administration (1.5 g and 3 g/day for 3 months) significantly decreased the CTX-II level (P < 0.05). These observations suggest that Koyosamine® HCL is expected to exert a chondroprotective action in athletes (soccer players) by preventing type II collagen degradation but maintaining type II collagen synthesis.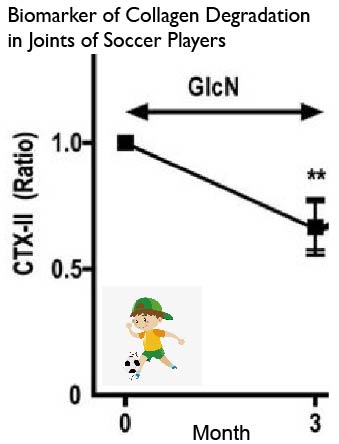 3. Joint Care: Improved arthritis conditions
Kajimoto, O., et al. "Therapeutic activity of oral glucosamine hydrochloride in osteoarthritis of the knee: A placebo controlled, double-blind, cross-over study." Nippon Rinsho Eiyo Gakkaishi 20 (1998): 41-47.
Outpatients with knee osteoarthritis showed significant improvement in spontaneous pain, joint tenderness as well as walking ability after taking 1.0g & 1.5g a day Koyosamine® HCL for 8 weeks. (No. of subjects: 50)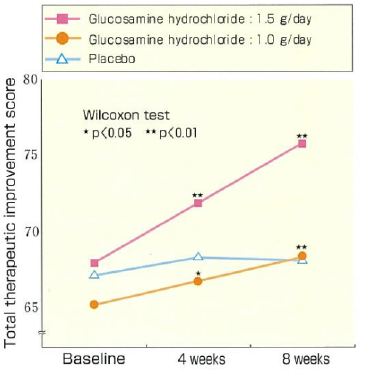 4. Skin Aesthetic Effect
Kajimoto, Osami, Shiori Suguro, and Takeo Takahashi. "Clinical effects of glucosamine hydrochloride diet for dry skin." Journal of the Japanese Society for Food Science and Technology (Japan) (2001).
Long-term intake of Koyosamine® HCL (1500mg/day for 6 weeks) was conducted in women who tend to have dry and rough skin. Examination by dermatologists indicated that Koyosamine® HCL significantly improved dryness of the skin, easiness to apply make-up, and exfoliation. Skin moisture content also increased. Moreover, microscopic skin surface analysis showed that Koyosamine® HCL improved smoothness and scaliness of the skin.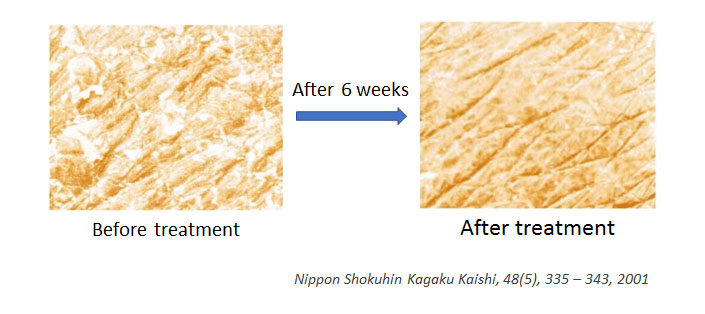 Koyosamine® HCL is the ideal choice for sports nutrition and nutraceutical applications.